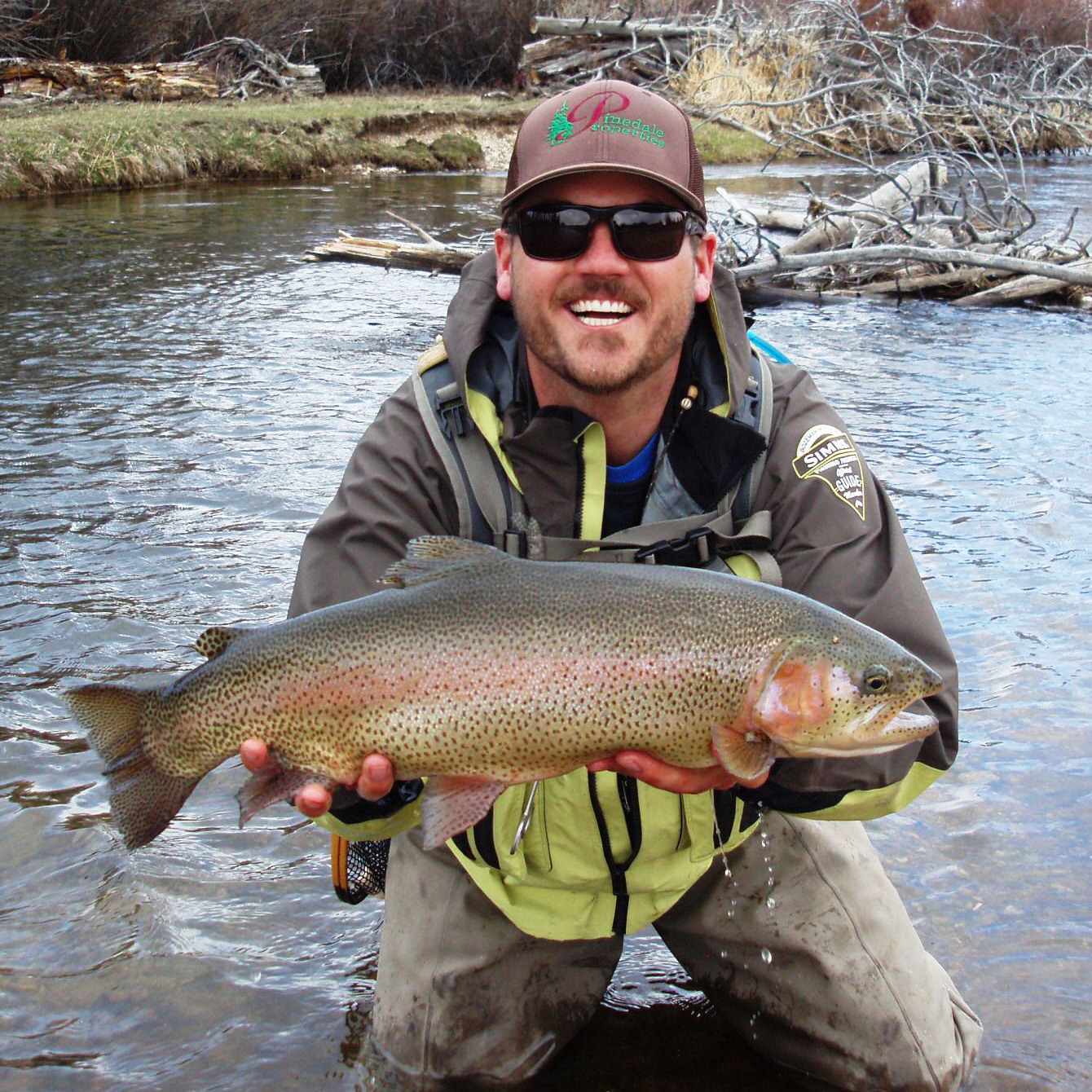 Broker/Owner | Cell:307.231.1862 | like2fishinc@gmail.com
I am a Wyoming native, and have lived here most of my life. I left Pinedale to attend college and play football at the University of Sioux Falls in Sioux Falls, South Dakota. It was there that I met and married my wife, Angela. Shortly after graduation we moved to Pinedale so I could begin my real estate career. After all, you can take the boy out of Wyoming, but you can't take the Wyoming out of the boy! We now have two daughters, Lexie and Candice. Life in Pinedale has been good to us.
I have a favorite pass time that some may call an obsession but I call it therapy--fly fishing! I have fished nearly all of the local rivers and tributaries in the Pinedale area and many others around the state. In pursuing my passion I have traveled all over Sublette County. I served as the President of the Upper Green River Valley Trout Unlimited Chapter 469 for six years. I took a brief furlough from that position to serve as the Rural Health Care Foundation's President for three years. But, duty calls and I have resumed my work with Trout Unlimited once again, as the Chapter's President. I believe it's important to be involved in organizations that directly impact where we live.
Because I love where I live and what I do, I bring a strong work ethic and enthusiastic approach to real estate. I get to share with others the beauty of Sublette County.
My main focus within the office is investment properties. I love the challenge of figuring out how to make a real estate investment profitable for people. I enjoy serving the local community and those new to the area through my work at Pinedale Properties, Inc.
Sales Associate | Cell: 307.231.2540 | hiredhand@centurytel.net
I love Sublette County and its people, and pride myself in integrity and wholesome relationships. I grew up on our family's fourth generation ranch north of Pinedale where we operated a guest ranch, raised horses and cattle, and were outfitters for big game in the fall. After graduating high school, I went on to the University of Wyoming where I received my bachelor's degree in Business Administration. I returned to the ranch where I managed operations for nearly a decade. I took a hiatus and worked 11 years in the trades of excavation, home building, and cabinetry. In 2012, I pursued work in the gas field where better opportunities presented themselves. I also started a handyman business in 2012 to help folks in the area.
My beautiful bride, Barbara, and I are blessed with four kids (Bailey, Matthew, Garrett, & Adam), all of which are attending college and are making a living for themselves. I enjoy most all sports, but when free time presents itself I'm usually on horseback, playing golf, working out, or snowmobiling.
I've bought land, bought a couple homes, and built a couple homes, so it excites me to have an opportunity to bring that same joy to other folks in pursuing their dream home, ranch property, or commercial investment.
Sales Associate | Cell: 307.343.0413 | blakecoble@wyoming.com
I have had the pleasure of calling Pinedale and Sublette County my home the past 5 years. We love it here and couldn't think of living anywhere else. My family and I are truly blessed to live in such a wonderful area that we enjoy and to raise a family. Originally from Tennessee, I found my way to Wyoming and met my wonderful wife, Trista, while attending the University of Wyoming. We have one daughter, Addison, who is our pride and joy. Coming from Laramie we are a Cowboy family. Go Pokes!
When the opportunity to move to Pinedale in 2013 came about, we jumped at the chance. Over the past 5 years working as the Finance Manager for the local dealership I have been able to meet so many wonderful people. The relationships I have built with my clients are what inspired me to join the team here at Pinedale Properties. I am excited to be able to continue that same great service in Real Estate. My passion and dedication to my clients are my number one priority.
When I'm not in the office you can usually find me out golfing, boating, hiking, or skiing. The outdoor opportunities are endless here. If you are looking for that dream property I want to help you find it. Let's get out and explore Sublette County to find that perfect home or property for you.
Sales Associate | Cell 801.910.6528 | camden@livewyoming.net
Camden Bennett grew up in Pinedale and graduated from Pinedale High School in 1998. He spent much of the next 20 years serving in the US Navy as a Navy Diver and Intelligence Officer. He met his wife, Lorraine, when they were both serving onboard a ship home-ported in Italy. Along the way, Camden also became an avid photographer and earned a BA in English and Anthropology from Weber State University. Although he spent four years in Italy, traveled widely, and lived in many locations throughout the US, he's always felt that Pinedale was home.
For Camden, becoming a real estate agent at Pinedale Properties was the perfect way to serve people and invest in his community. Camden enjoys spending free time with his wife and five children, contributing to local businesses and organizations, and engaging in all the outdoor activities Sublette County has to offer.